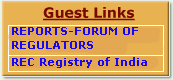 Website last modified on
27-April-2015


To promote competition, efficiency and economy in bulk power markets, improve the quality of supply, promote investments and advise government on the removal of institutional barriers to bridge the demand supply gap and thus foster the interests of consumers.
More...

The Central Electricity Regulatory Commission (Sharing of Inter State Transmission Charges and Losses) (Third Amendment) Regulations, 2015.
Notification.